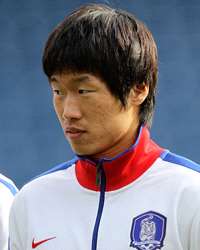 Park Ji-sung (picture) is not a player given to grandiose statements but the captain of South Korea has declared that the national team is the best in Asia.
The Manchester United man pointed to the fact that historically, the Taeguk Warriors have demonstrated their strength against their continental rivals.

Park is about to lead the team to an eighth World Cup, a record that far surpasses Asia's second most successful team Saudi Arabia.

The West Asians have made four appearances on the global stage while Japan will equal that record this summer.

"Against Japan and any Asian teams we've had good results so I would say that history proves we are the best Asian team," Park said in an interview with the-afc.com.

South Korea will face Argentina, Nigeria and Greece during the 2010 World Cup in South Africa and with young stars like Lee Chung-yong and Ki Sung-yong at Bolton Wanderers and Glasgow Celtic respectively, Park is confident that the future is bright.

"In our qualification for the World Cup, Lee and Ki played very well and I expect that they will show their ability in South Africa," he added.

Lee has already made a big impact in the English Premier League while Ki's start has been a little slower since arriving in Scotland in January. The former PSV Eindhoven star is confident that Ki will be a huge hit in Europe.

"He can make an impact because I know his ability and he's got talent but he needs more chances to play. I keep saying to him 'you can do it' and 'believe in yourself'".