It was, said the chief of the Indonesian FA (PSSI), a grand idea from a big nation. Nurdin Halid was right about that. Indonesia's bid for the 2022 World Cup put the country in a race with some of the world's leading football nations – for a while at least.
The end of the bid, due to a lack of government support is doubly disappointing for Nurdin. Getting the World Cup could have been the one thing that would secure the future of the controversial figure. Now, his eight years may finally be drawing to an end and it is hard to escape the conclusion that it is what Indonesian football needs.
His World Cup plan was a bold one. As long shots go, it was right up there. Few from outside the south-east Asian nation believed that there was a chance and during visits to Jakarta and elsewhere, it was difficult to avoid the impression that the same belief existed inside the bidding nation.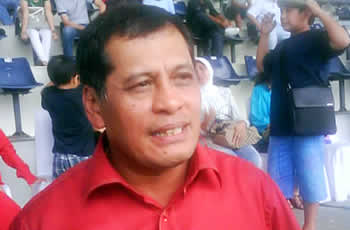 Nurdin Halid
It was not meant to be. While focusing on more mundane, but more important grassroots issues, or bidding for a Under-17 World Cup may have been more practical and realistic, for Indonesia the whole bid should have been a no-lose situation. No expectations of success but a great chance to boost the nation's profile both in football and non-football terms.
Much more could have been done however. When I visited Jakarta in October, Nugraha Besoes, the General Secretary of the Indonesian Football Association, told me in that in Asia, South Korea and Japan were Indonesia's biggest rivals. If so, the PSSI should have taken a leaf out of East Asian books. Korea's bid leaders travel the world and seemingly only return to Seoul only to welcome visiting dignitaries.
This is in contrast to the general lack of energy in the Indonesian bid from the beginning. The biggest event of the bidding race to date was the Cape Town Expo last December. Walking around the large tent, it was possible to chat to heads of federations from the United States, Australia and South Korea. David Beckham was there as was Ruud Gullit and Figo.
Indonesia had a centrally located stall that day but Nurdin Halid wasn't even present– "busy with a government meeting looking at how to improve exports" was the embarrassed explanation when I asked where the boss was.
If Halid was helping the government out in the expectation of getting something in return, he will be disappointed. But the whole issue of government support came at a time when the bid was floundering and it is better that it stops now than continues to die a slow death. The government says that it has other priorities to focus, priorities that don't include the World Cup.
The same could be said of PSSI. Even before the World Cup debacle, Nurdin's leadership has long been a debate in Indonesia and now it is there for the whole of Asia to see.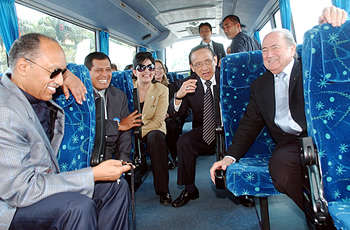 Nurdin And Nugraha In Happier Times
At least it will be on March 30-31 in Java when Indonesia will hold a National Football Congress, endorsed by President Susilo Bambang Yudhoyono to formulate ways on how Indonesian football can progress. This is the first time an Indonesian president has paid so much attention on the county's poor achievements in football – things must be bad – but it is not just at the top where concern lies. The fans are also unhappy and there is a growing consensus that the time for change is long overdue.
Even for a man used to such demands. It will be an uncomfortable 48 hours for Nurdin and his connections may not save him this time.
Having already served a jail sentence for corruption, his stewardship was long a controversial one and it is getting worse.
PSSI has been reported to the Court of Arbitration of Sports (CAS) by their World Cup bid consultant Michel Bacchini for failing to pay his fees which reportedly amount to around a quarter of a million US dollars.
The national team is floundering. A football-mad nation of over 200 million people deserves better than collecting just three points from six qualification games for the 2011 Asian Cup. Benny Dollo was kept on too long, especially as qualification hopes had faded but there were still competitive games to play.
Known as Merah Putih, the national team has been without a win in a full international since December 2008 against Cambodia and it is not only the senior team that is struggling. The Under-23 team failed at the SEA games and the Under-19s didn't qualify for the U-19 Asian Cup.
Domestically, violence at league matches is still a problem and the PSSI has failed to provide solutions or leadership and fixtures going ahead on time are still not guaranteed. All this in a country which loves and embraces football like few others and deserves better.
Former PSSI official Edi Elison thinks the time has come.
"The PSSI only thinks about glamorous things," he said recently. "We have a big competition, but we lack quality. We're applying to host the World Cup. Changing the PSSI chairman and officials may be a good start to rebuilding Indonesian football." -From goal.com, written by John Duerden, Asia Editor.